UK PRESS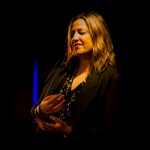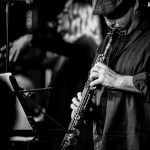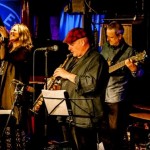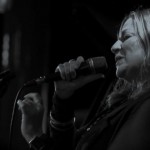 As part of the 2016 EFG London Jazz Festival, Pizza Express in Soho, London, hosted the multi-talented Filomena Campus and her band who play to a rapturous crowd welcoming them with a huge applause.  Campus & co started with a classic, one I have heard before and never tire of listening, "Monk's Dance" (written by Steve Lodder on piano and Filomena Campus), a truly innovative track, both lyrically and musically dedicated to Thelonious Monk.   "Sabbia e Mirto" [Sand and Myrtle) - (by Phillips/ Campus) was like a fluctuating sea, with Campus performing with a smile printed on her face.
"Summer Lights", inspired by the poem "Ombre" (Shadows) by the late Sardinian singer-songwriter Maria Carta, is the introduction the crowd needed for the mighty entrance of Sardinian saxophonist  and singer Gavino Murgia.   His notes were played in a way that was deep and pierces through one's heart.  Campus was energized and her scatting was super-charged on the night by the impressive Murgia.  They were travelling on the same wave-length and at such a pace!
As per usual, Campus's band was of the highest quality with Lodder playing exquisitely on piano, Youngs strong and attentive on drums and Phillips on a perfect rhythm.  Murgia added his magic by producing notes like fire.
A track like "Impressionismo" [Impressionism] – (by Alessandro Di Liberto) was a rendition that makes one realize how skilled Campus is, her scatting is literally something else, she was on top form, a modernist in her approach, Murgia's solo on this piece was powerful.
The second set saw the the band and Murgia provide an insightful performance, one that both myself and the crowd won't forget for a long time: "Bardofulas" a composition by Murgia, a mélange of sounds, singing and words that left one open-mouthed.  "Per Franca"  (by Lodder, Campus, Benni) exposed the highest brand of poetry into jazz/ jazz into poetry that there is.   The track was inspired by a poem by Stefano Benni for the late Franca Rame, the Italian theatre playwright (and wife of the late Dario Fo).
"Pane Pintau" [Decorated Bread] – (by Murgia) is stunning, eclectic, mellifluous.   Another worthy mention, amongst all the beautiful compositions, is "Creuza De Ma'" [from the Genoese dialect meaning a very small, tight alley] – (by De Andre'), arranged by Dudley Phillips,  here the crowd was treated to Campus's Genoese singing, this dialect is not easy to understand, it is intricate and dark at times but this is exactly what makes the singing and the performance more attractive, one has to witness it.
So this is really what jazz can ALSO be; it can be about poetry, about singing it, performing it, it is about creation.
An absolutely inventive show.
P.S. – why are we not seeing Gavino Murgia more in this country??
Personnel: Filomena Campus – vocals; Steve Lodder –  piano, Dudley Phillips –  electric bass, Rod Youngs – drums and Gavino Murgia (special guest) – tenor and soprano sax
Text: Erminia Yardley
Images: Carl Hyde Photography
"Utterly compelling" The ARTS DESK review on Filomena Campus and Gavino Murgia Duo at King's Place, London Jazz Festival

Filomena Campus' spellbinding Monk homage at Theatralia Jazz Fest
Curated by the award winning jazz vocalist, lyricist, lecturer and theatre director, Filomena Campus, the final night of the third annual Theatralia Jazz Festival saw an adapted jazz version of the theatre production Misterioso, A Journey into the Silence of Thelonious Monk, featuring a script by the renowned Italian writer, poet and journalist, Stefano Benni. Produced by Campus, and previously staged in both London and Edinburgh with support from Arts Council England, Benni's text movingly explores Monk's extraordinary seven-year creative and personal silence in response to McCarthyism at the end of his life.
In addition to Benni's mellifluous readings (in Italian and English), the superb, All Star Misterioso band, which filled the stage at Soho's Pizza Express Jazz Club, featured Cleveland Watkiss (Monk's spoken voice, vocals), Robert Mitchell (piano), Orphy Robinson (vibes), Dudley Phillips (double bass), Jean Toussaint (sax), and Campus herself (vocals).
Over Mitchell's scene-setting, preludial opening ('Monk's Music'), Campus, somewhat in the manner of a Brechtian theatre director, delivered a thumbnail outline of the spectacle we were about to witness, including a brief portrait of Monk, hailing especially his "courage to be unique", and introducing the band.
A captivating opening set included a towering Mitchell solo in 'Well You Needn't', hammering out repeated notes in huge, crunching dissonances, a reading of 'My Name is Monk' ("Every silence is different from any other silence"), a dazzling 'Green Chimneys' with Herculean scatting and beatboxing from Watkiss and wondrous torrents of notes from Toussaint and Robinson, Benni reciting his evocative 'Piano forte bianco e nero' and Campus, with Mitchell's understated accompaniment, talking about Monk's uniqueness and why his music "can neither be classified nor assimilated … There is no affiliation, no august and venerable school, no heirs, no spiritual fathers, disciples or students. Mother and father unknown. No descendants."
Bringing the first set to a hugely powerful close, the production also included a short tribute to the music of Billie Holliday, celebrating the centenary of her birth. To the accompaniment of a blues played by Mitchell, Benni's 'Lady Sings the Blues' documented Holiday's response to racist abuse hurled at her by an audience member when she was singing in a Southern club, with the singer concluding:
I'm the queen of the kingdom of rags
I'm the voice of the sun on the cotton field
I'm the black voice full of light
I'm the Lady who sings the blues  
Watkiss then gave one of the most stunning a cappella accounts of 'Strange Fruits' you'll ever hear, seamlessly creating a hair-raising polyphony of whimpering sounds and sudden inhalations of breath which looped terrifyingly, over which he delivered the haunting verses.
Opening with a striking Robinson solo, the second set saw the full band take 'Round Midnight' on a fascinating journey which culminated in the most beautiful moment of the evening, a hushed, dream-like ending suspended in time. A rollicking amalgam of scat, beatboxing, and tumultuous soloing from Robinson and Mitchell, 'I Mean You' was a standout, as was the Cageian multiplicity of event at the end of 'Ugly Beauty' ("In my fight I've struggled like a hundred warriors"). Recited by Benni and Watkiss, the alliteration of the final text couldn't fail to conjur up the intoning of saints' names during mass:
Saint Billie, Saint Bud, Saint Bird, what's the point of talking?
When you can play like that.
It brought an exceptional, heartfelt homage to a poignant close.
Of her Theatralia Jazz Festival, Campus has said: "In a moment where everyone seems to draw up walls, I aim to build a bridge between our two countries. A bridge made of jazz notes, theatre and masks, musical encounters enriched by the magic words of great poetry." Long may it continue.
– Peter Quinn
– Photo by Nadjib Le Fleurier
LONDONJAZZ REVIEW
Theatralia Jazz Festival. All Star Misterioso – A journey into the silence of Thelonious Monk
The cast of All Star Misterioso
Theatralia Jazz Festival. All Star Misterioso- A journey into the silence of Thelonious Monk by Stefano Benni
(Pizza Express Dean Street, 11th November 2015. Review by Alison Bentley)
The moods and music of Thelonious Monk were expressed in this poetic drama by Italian writer Stefano Benni and a fine band of London musicians. Monk's Mood opened, played meditatively by pianist Robert Mitchell. Director (and singer) London-based Italian Filomena Campus explained that when they first put the play on at the Riverside Studios in 2009, they had tried to make the theatre like a jazz club. For tonight, Campus had translated and adapted Benni's poetic drama to make Pizza Express seem like a theatre.
Campus acted as a narrator/director from the stage, introducing the theme of Monk's life: 'In the last 7 years of his life Monk stopped talking and playing, totally isolating himself from the world…' (he died in 1982.) The music acted as a narrative too, as pork pie-hatted Orphy Robinson and Jean Toussaint joined in on vibes and tenor. Dudley Phillips' bass held the groove of Well You Needn't, and with no drums, the vibes really came into their own as a percussion instrument. Singer Cleveland Watkiss and Campus scatted with the band on a beautiful arrangement of Misterioso, leading into poetic soliloquies by Watkiss and Benni (the latter in Italian, and much appreciated by the audience's Italian contingent.) Both were playing the role of Monk. Watkiss' speaking voice was as rich and expressive as when singing: 'Every silence is different from any other silence'; silence, said Benni, could be waiting for a friendly voice or a gunshot. Watkiss' version of Green Chimneys was a reminder of his fine 80s album of the same name, his solo Jon Hendricks-like is its dexterity. Toussaint's tenor was boppish and thoughtful, bringing to mind Monk's Quartet with Charlie Rouse.
Epistrophy began to explore darker reasons for Monk's silence, in Watkiss' and Campus' monologues: 'the pain that lives between one note and the next,' as Monk's music was a 'rock thrown into a pond where you watch the ripples.' Benni's lines imagined Billie Holiday responding to racist abuse in a club ('I am black and beautiful my friend') and Watkiss went to the heart of darkness of Strange Fruit, its indictment of racist lynchings accompanied by looped cries and whispers.
The second half began with an extraordinary solo from Robinson, hinting at a number of Monk tunes, as if he'd collected all the most dissonant intervals from Round Midnight before the theme emerged. Watkiss scatted the tune in delicate falsetto, Bobby McFerrin-like, then interwoven with the sax. 'Black, white, black, lying on a bed of music that's full of edges and splinters that won't let me sleep,' he intoned.
I Mean You lifted the mood, the piano thundering in quirky clusters, emulating the utter physicality of Monk's playing- the audience especially loved this. Campus had translated Benni's evocative poem Lullaby and set it to Monk's waltz Ugly Beauty; she sang: 'And after thousands of chords/ My fingers stop moving … and music will never be as before'; Benni and Watkiss joined her with patterns of words echoing and overlapping, like jazz riffs over bowed bass.
'Saint Billie, Saint Bud, Saint Bird, what's the point of talking? When you can play like that.' An uptempo Misterioso illustrated the point; as everyone improvised, you had the feeling that the music was making sense of the world.
A powerful and moving performance, with Monk's matchless music and superb musicians to lead you through.  Alison Bentley LONDONJAZZ
Review: My Jazz Islands Festival with Paolo Fresu
(12th Nov 2014, Pizza Express Jazz Club. Review by Alison Bentley) The My Jazz Islands Festival brings jazz musicians from Britain and Sardinia together, with concerts on both islands. This gig was the third night of this year's sold-out London festival, and also the CD launch of Scaramouche (Incipit Records INC 189), with music written by guitarist Giorgio Serci and lyrics by singer Filomena Campus,  both of whom have made London their second home. Fellow Sardinian, the renowned trumpeter Paolo Fresu was on the line-up for this closing evening too.Campus and Serci opened with Primavera. Their CD has a Brazilian theme and they were joined by Brazilian percussionist Adriano Adewale, evoking Spring with bird whistles and rustling shakers. Serci has composed radiant, memorable melodies for the recording, played on nylon-stringed guitar, which he underpins with strong resonating bass notes. As Campus sang the tune wordlessly in unison with the guitar, there was an atmosphere of real warmth. At times we could have been listening to Egberto Gismonti and Nana Vasconcelos. The album is partly a tribute to Brazilian Hermeto Pascoal and the convoluted, nimble and joyful Hermetico (in 7/8) took strands from his compositions. There was an Airto Moreira moment when Adewale found unimaginable sounds in his tambourine, and his huge grin of enjoyment matched the audience's. Campus' fantastical lyrics added to the mood. The trio setting left lots of space to hear the subtleties and dynamics of her voice- the harmony lines with the guitar were particularly beautiful. Lyrics were significant: for Round Midday, Campus had reworked a wry poem about an encounter with a beggar, by Beat Poet Jack Hirschman.Two pieces dedicated to the late, much-missed Kenny Wheeler marked the first appearance onstage of Paolo Fresu. One of Kenny Wheeler's very last recordings is on the  Scaramouche CD, plaintive and distinctive, recorded in his home. Paolo Fresu took that role in Momentum at the launch gig. Fresu has talked in the past about the importance of 'going inside the music', and he played from the heart, with long ethereal notes and punchy utterances, earthing it all with bluesy phrases. Orphy Robinson joined them, his vibes blending subtly with the darting melody. Wheeler's Everybody's Song But My Own came in the second set- it's not on the CD but was a sincere tribute here. Enzo Zirilli sat in as second percussionist as Robinson's vibes blurred into amazingly fast chromatic lines.Free jazz played its part all through the gig. Robinson and Fresu opened the second set with a duet of mysterious bell sounds and delay effects on the trumpet, Fresu's phrases coming back to him like a reflection. Campus' background is in the theatre, and Scaramouche is a character from the Commedia Dell'Arte, often, appropriately, depicted with a guitar. The eponymous song brought out Campus' rich lower range over the bass drum sound of Adewale's calabash and burnished cymbal accents. Some of the most striking moments were where the climactic sounds dropped right down to solo guitar for a while- the arrangements had a strong dramatic sense. Campidano was especially appreciated by audience members from that area of Sardinia. Its delicate melody (the CD version has strings arranged by Serci) was reassuring and acted as a familiar reference point in the freedom of the solos. Campus' voice could be harsh and disturbing or deep, breathy and soothing- an huge range of truly improvised vocal sounds. It was if she'd held something back for this moment, and the others followed her. The simple chords allowed for great complexity in the rhythm- vibes like a marimba, trumpet crooning over Adewale's percussive vocal sounds.An evening of warmth and Sardinian love of life: melodies that ran through the head long after the gig, free jazz, improvisations with the shape of a theatrical performance, and music to lift the spirits on a wet November evening
~~~~~
 John Fordham's Review – The Guardian on Steve Williamson's band feat Filomena Campus (2014)
Five key figures from the Jazz Warriors, the musically and socially inspirational black British big band of the 80s, perform separately at Soho's Pizza Express Jazz Club during September – the most famous being Courtney Pine, with fellow saxophonists Denys Baptiste and Steve Williamson, trombonist Dennis Rollins and bassist Gary Crosby completing the roster. Steve Williamson led the charge here with his own quintet, in a gig that was both a reminder of how charismatic a prospect he was on his 1990 debut, A Waltz for Grace, and how perplexing this gifted artist with the stirring tone and Hamlet-like uncertainties has been since. Here, Williamson was leading his first new band in over a decade, an all-star outfit with Polar Bear's Seb Rochford on the drums, along with pianist Robert Mitchell, bassist Mike Mondesir and vocalist Filomena Campus.Williamson's unique sound is founded on a mix of Caribbean music and the terse, mathematical urban funk of the New York M-Base movement, and the latter drove the rhythmically intricate Soon Come, with its staccato single-note repeats, cliffhanging pauses and mind-boggling pattern-juggling from Rochford. Williamson's vibrant, voicelike tenor-sax sound throbbed on low notes and soared high over Robert Mitchell's washes of notes during more lyrical episodes, before the ex-Jazz Warrior ushered Filomena Campus through A Waltz for Grace – unsteadily at first but with growing conviction – on poignantly Wayne Shorter-like soprano sax. Campus was feeling her way in Williamson's freefall soundscape to begin with, but gathered momentum over bold blends of jazz swing and Latin grooves late in the set. Williamson's admirers have been here before, but this is the best band he's performed with in 20 years – and one with immense potential for bridging this fine artist's rich interior life to the expectant world outside.
Filomena Campus' My Jazz Islands Festival
Festival Review: My Jazz Islands Part 1 (Cagliari, Sardinia, 2013)
My Jazz Islands Stage, Cagliari
My Jazz Islands Part 1
(Cagliari, Sardinia. 20, 21, 22 June 2013. Review by Alison Bentley)
A jazz festival next to the beach, under the setting sun and rising moon. Each night in the Lazzaretto di Cagliari Arts Centre, a film of strangely beautiful images was projected on to the courtyard wall next to the stage, flickering to the music. The kind of thing you might see in The Tanks at Tate Modern, but outside- imagine!
The first night featured the UK's Orphy Robinson on vibes and Sardinia's Antonello Salis on piano and accordion. They were billed as 'versus' each other, but this was a remarkable collaboration between two improvising musicians who had never worked together before. 'We rehearsed getting on and off the stage,' joked Robinson.
Salis, a wiry, spry figure in headscarf, looked as though he could have been out all day on the sea. Robinson, tall and urbane in cream suit and hat, took care of the technology. He collects sound samples- everything from big bands to electronic sounds, to inspire improvisation. Salis began with his grand piano prepared, using pieces of metal and plastic on the strings, and at one point a rustling plastic bag. Robinson's vibes were looped and distorted over a sampled happy choir. The distorted sounds subverted the recording, but at the same time the 'choir' gave us a way in to understand how the improvisation was developing. Then the piano was sweetened, like an Aeolian harp over funky electronic beats, then nervy against the luscious vibes. A little orientalism, a little MJQ drifted across the ears, as suddenly and unexpectedly as the flock of wild flamingos flying overhead. Robinson hit the sides of the chimes, looping rhythms like voodoo beats, while Salis seemed to be climbing inside the concert grand, holding down the string with one hand and playing the keyboard with the other.
Antonio Sallis and Orphy Robinson
The mood changed as Salis moved to accordion, an instrument whose traditional associations can sound comforting. Salis played spooky tritones alongside Robinson's hypnotic Steve Reichian grooves, moving into 7/4 as Robinson played some deliciously discordant chords. Then what sounded like Ligeti over a recorded Lucky Thompson monologue: 'Until you are sure that the idols that you worship are of your own choosing, you are indirectly supporting those who are exploiting the artists.' The vibes resonated eerily round the courtyard, with its De Chirico shadows. As the piano strings shimmered, surely it wasn't just the Mistral wind that made me shiver? But then these two artists tap-danced together to showing their respect for each other, playfully.
The two were given several unexpected tasks to fulfill. This was fascinating for the audience, giving insight into the improvising process. Robinson played in the style of Louis Armstrong, his 'favourite musician.' Improvisation can have a wonderfully random element: as Salis played romantic accordion (to 'make an audience member fall in love with him'), the film projected images of bullocks walking backwards. But in a piece based on a 'weather conversation' the notes of the piano and vibes ran together like raindrops.
 Martin France, Filomena Campus
The second night was given to Sardinian singer Filomena Campus and her excellent UK band, joined by Salis. Most of the songs had been created by pianist Steve Lodder and bassist Dudley Phillips, with lyrics written or adapted by Campus- recorded on her Jester of Jazz CD (SAM 9032). Campus thinks of improvisation as springing from her acting as well as singing work. 'I want to play with jazz. It makes me free when I improvise.' They opened with Monk's Dance, its tricky intervals reminiscent of Monk's own writing, Lodder's sparkling piano interleaving with Campus' delicate vocals.
Some songs had a direct Sardinian reference. In Sabbia e Mirto, the dark, deep piano and bass chords invoked ancient Sardinian rituals, where the wind is '…carrying notes from the island.' No Potho Reposare is a well-loved Sardinian song, beautifully-arranged by Phillips, undulating like the flying birds projected behind them. Bass and piano lines were delicately counterpointed as Salis played accordion phrases that sounded like a flageolet- and the moon rose behind the stage. Lodder's Summer Lights took inspiration from a poem by Sardinian Maria Carta, with perhaps some Abdullah Ibrahim, and Jarrett influences. The bass and drums (Martin France) followed the contours of the vocal line: '…sound of joy/In my voice, in my soul.' Phillips' Hoos Foos was based on a Stefano Benni poem.
The bass solo was a tour de force, with its expressive double-stopped sliding. France's drums were delicate, while keeping the strong Latin groove. Campus used vocalised sounds as well as singing. She drew on a nonsense language based on the Italian Commedia Dell'Arte, developed by Italian playwright (and Nobel Prize winner) Dario Fo. It was intriguing to hear the variation from the usual Ella-style scat syllables- noises that were funny, childlike and downright scary.
Campus was Flora Purim to Salis' Hermeto Pascoal- growls and ululating to the moon, like a wild jazz version of Schoenberg's Pierrot Lunaire. Campus' theatrical background informed a number of songs. Queen of Clowns was based on Benni poem for the late Franca Rame, Fo's wife. Campus sang with poise and charm, her voice high and and clear, with an affecting flutter in the lower registers. 'Harlequins are dancing for the revolution '. Salis' accordion fluttered between the lines of Lodder 's expressive solo. Boal (for Brazilian theatre director Augusto Boal) was a beautiful samba written by Lodder, sung gently by Campus in an Elis Regina style. Lodder's sparkling solo had a Bill Evans-like transparency.
Campus' scat solo recalled her mentor Maria Pia de Vito in its agility. She had a warm stage presence, winning the audience over to her refreshingly experimental style: '…the freedom to dampen, tonight, to change, to live, to be happy.' Day three juxtaposed Italian and British culture more broadly, from satire to Shakespeare. Renowned Italian novelist and poet Stefano Benni was there in person. Lodder and Philips had written music in an amazing range of jazz styles to accompany his poems and dialogues. God Save the Queen opened, a comic cavalcade of names and phrases suggesting British culture: '…To be or not to be… Beckham, Beckham, Molly Bloom, the Yellow Submarine. Imagine a jazz version of Walton's Façade. I Gatti, another Benni poem in Italian, had Campus and Benni yowling to the leaping music. Benni read his Queen of Clowns to a funky groove, with an astounding vibes solo from Orphy Robinson, skittish and virtuosic.
Benni recited his translation of Romeo and Juliet's Queen Mab speech, with the vibes accompaniment creating their own magic. Lodder's music, mysterious and modal, captured the mercurial quality of the original, with its alliterative language. Benni recited part of his translation of T. S. Eliot's The Wasteland. The shifting music had no obvious tonal centre, expressing the ambiguities of the poem, with its unsettling mixture of high art and comic bathos. Filomena Campus sang Philomel's part of the poem with music by Sardinian Paolo Carrus, with 'inviolable voice.'
One Hand Jack was a very funny piece of satirical theatre by Benni, and the music told the story. 'Jack' wandered round the imaginary streets as funky grooves drifted out of imaginary bars. He wanted a new hand, but was given a bass instead. Phillips' double bass brilliantly followed the intonation of Benni's speech. The band played some swinging blues and rhythm changes, sounding with Robinson's vibes very like the MJQ. Robinson literally played God (with great panache). The piece asked: was there anyone who couldn't believe that God could be black?
The final song was a poignant Phillips arrangement of a much-loved Italian song by de Andre, Creuza de Ma. Lodder's spacey piano moved back and forth from major to minor, in a rocking motion expressing the sea. Benni joined on the chorus, the bass underpinning the lines beautifully, before the band burst into a final dancey rock groove.
To quote a character from one of Benni's novels: ' I never want that which ends well to end at all.' But it hasn't ended, because Sardinia, with its atmosphere of warmth and vivacity, is coming to London's Pizza Express Jazz Club in November. Hats off to Nicola Spiga of 'Forma e Poesia nel Jazz' and Ross Dines of Pizza Express, for bringing together this mélange of the two cultures: romance, fun, satire, fine music, powerful performers, jazz from island to island.
~ ~ ~ ~ ~
JAZZWISE review of Jester of Jazz "(…) this new album from the London based Italian vocalist and theatre director, Filomena Campus, explores the art of the jazz singer through a playful ironic filter (…)  Rather like her Italian counterpart, Maria Pia De Vito, Campus' inherently dramatic approach and wide frame of references ensures that her approach to a song is always from an agreeably fresh perspective. Arrangement-wise, there are some immensely subtle things happening too: the ambiguous metrical layering's of the album's lead –off song, 'Sabbia e Mirto', the slowly uncurling whisps of flute counter melody in Dudley Phillips' captivating arrangement of the traditional Sardinian song 'No Potho Reposare', and the tricky voice/piano unisons of 'Monk's Dance', dedicated to the great Thelonious." Peter Quinn,  JAZZWISE (May 2011)

JAZZUK on Jester of Jazz: "I first encountered Filomena Campus on YouTube performing an arresting improvised vocal duet with Cleveland Watkiss.
'Jester of Jazz' (SAM Productions) also pivots around a short free improvisation, either side of which this singular Sard gleefully and expertly builds a multilingual set of beautifully stylish original songs and recitation that touches on everything from Gilbertoesque Latin to torch singing. She lives in London, but hers is the most international of musics so she's often gigging abroad; catch her when you can.ROGER THOMAS, JAZZUK (Aug/Sept 2011)
'Campus is a highly musical singer' The Telegraph

'Her voice has the warmth of the sun and the reflexes of the music of the soul. Excellent vocalist, able to perform with humor and swing, with elegant and charming stage presence, moves  like dancing on stage, reading poems, telling of fellinian clowns and surreal circus, enchanting her audience with a voice that knows the accents of the blues'. La Nuova, May  2010
'Filomena jazzes things UP…reaching out to her audience, exuding expressiveness from every part of her body even down to her fingertips.' Mary Brosnan (Herts Advertiser)
'Filomena has some spectacular singing abilities (the technique, the passion…), which can be appreciated both while performing 'regular'songs and while improvising.' Two Expats
'Fascinating' Jazzwise (2009)
"Campus is an amazing vocalist, with her unique tone that is blues and solar at the same time, she is able to touch the chords of your soul, with excellent swing and incredible stage presence" Walter Porcedda – La Nuova
"Ethereal Sardinian vocalist performs beguiling songs from her new album 'Jester Of Jazz', inspired by Commedia dell'Arte and Theatre of the absurd, she creates dynamic, high-spirited originals. Her stunning band includes Sardinian trumpet star Fresu and brilliant sax and flute work from Toussaint and Sutherland." Time Out London
"Filomena Campus' Jester of Jazz is a bold jump into the blue colours of the Mediterranean Sea. Deep and refreshing, the melodies sing in waves the stories of jazz, freedom and passion. The blues is never far, and when your hear the music your soul sails away into the world of free spirits." Laurent De Wilde

~ ~ ~ ~ ~
"Filomena Campus brought some of the elite rhythm section players from the London scene – Steve Lodder on piano, Dudley Phillips on bass and Winston Clifford on drums. In a well-judged set, Campus shone in the peaceful Sardinian song "No potho reposare." She rounded off the set in a lively bossa tribute to Brazilian stage director Augusto Boal, with Campus reaching up well into head-voice, and the trio hiting the groove hard." Sabastian Scotney,  LondonJazz 2011
~ ~ ~ ~ ~
"Jazz Italian Campus in Soho"
by David Franchi for remotegoat on 25/05/11 It was another great performance of Filomena Campus Quartet at the Pizza Express Jazz Club Soho, London. The Italian singer together with her Quartet and a couple of friends, Antonio Forcione and Jean Toussaint, has done a fantastic concert.She performed songs from her new album "Jester of jazz" and some songs from her duo with Antonio Forcione. The line up of the Filomena Campus Quartet is composed of Filomena Campus (vocals), Steve Lodder (piano), Dudley Phillips (double bass), and Winston Clifford (drums) who in this occasion were joined by the special guests Jean Toussaint (sax) and Antonio Forcione (guitar).Filomena has a great and eclectic voice, Toussaint is a charming musician and Forcione is astonishing gifted, while the other components of the band are talented and experienced artists.Filomena dyes her performances with the colours of Harlequin costume. In her gigs she blends various genres of music but always within a jazz frame. Besides, her new album is inspired by Commedia dell'Arte and Theatre Of The Absurd adding a hint of theatrical style to the performance. There is also a vast component of her Sardinian legacy mixed with Italian theatre. The roots of Filomena Campus, in fact, are Sardinian, the big Italian island in the Mediterranean Sea, from which she takes inspiration.During the concert at the Jazz Club Soho, in fact, Filomena Campus performed some songs in Italian and in her own dialect, such as the classical folk ballad 'No podu repusare', 'The queen and the clowns' dedicated to the famous Italian artists Franca Rame and Stefano Benni or 'Sabbia e mirto' inspired to the Mediterranean sea. But also she performed songs in English reviving the variegated jazz tradition. With Antonio Forcione, they played songs from their Duo repertoire, with a special solo performance of Forcione who showed great technical ability. The concert ended with a great final jointly with Toussaint who as usual masterly 'embroidered' the tones.Filomena Campus is an international artist well- known as jazz vocalist and also as theatre director. She has toured and collaborated with top UK jazz musicians including Evan Parker, Guy Barker, Orphy Robinson, Byron Wallen, Cleveland Watkiss, Jean Toussaint, Antonio Forcione and the London Improvisers Orchestra.In 2010 Filomena founded the 'Filomena Campus Quartet' with Steve Lodder, Dudley Phillips and Winston Clifford and "Jester of Jazz" is their new original project. In these days they are touring in Germany, Italy and Croatia.~ ~ ~ ~ ~Interview with Filomena Campus on Thelonious Monk, London Riverside Studios~ ~ ~ ~ ~4 Star review on Misterioso  directed by Filomena Campus ~ ~ ~ ~ ~Article about free improvisation: Filomena Campus & Cleveland Watkiss Vocal Duo
on FILOMENA CAMPUS & CLEVELAND WATKISS VOCAL DUO
Have you become too serious about your music? Are you questioning why you are doing it or where the element of fun has gone? Well, please read on, make sure you get to then end of this Article and by that time, I promise you, you'll remember what it was all about. I've written quite a lot about the benefits of free improvisation. A lot of the time, however, many musicians find this exercise one of the most confronting ways of playing their instrument. The reason is that improvisation, especially free improvisation, highlights our inner critic, which can be an uncomfortable presence in our creative activities. The more uncomfortable you are with improvisation, the more critical you may be of your music and the harder you find it to become satisfied with your creative experience.Some people consider free improvisation utter nonsense. To those people I would say that nothing would ever change in the Arts, or indeed any area of life, without taking risks and trying out "unconventional" ideas.However, free improvisation is now far from an unconventional idea and in this Article I wish to illustrate what free improvisation would look like for different instruments. One of the most famous improvisational concerts was the 1975 Köln Concert on solo piano by Keith Jarrett. Before Keith sat down at the piano, he had no idea of what he was going to play. "Jarrett arrived at the opera house late in the afternoon and tired after an exhausting long drive from Zurich, Switzerland, where he had performed a few days earlier. He had not slept well in several nights and was in pain from back problems and had to wear a brace. After trying out the substandard piano and learning a replacement instrument was not available, Jarrett nearly refused to play and Brandes (the promotor) had to convince him to perform as the concert was scheduled to begin in just a few hours. The concert took place at the unusually late hour of 11:30 PM following an earlier opera performance. This late-night time slot was the only one the administration would make available to Brandes for a jazz concert – the first one ever at the Köln Opera House. The show was completely sold out and the venue was filled to capacity with over 1400 people at a ticket price of 4 Deutsche Marks (about $5.00).Despite the obstacles, Jarrett's performance was enthusiastically received by the audience and the subsequent recording was acclaimed by critics and became an enormous commercial success. It remains his most popular recording and continues to sell well more than 35 years after its initial release." http://en.wikipedia.org/wiki/The_Köln_ConcertAlthough this improvisation is based mainly on two chords, I would still say it is freely improvised because Jarrett is composing purely in the present moment without a formulaic agenda.  In other words, he is freely "channelling" music."Jarrett opened up his heart and played whatever notes felt right at the moment. Missing from the show was overly flashy displays of instrumental prowess; instead of being found playing the perfect lick, Jarrett chose instead to get lost in the melody. He used virtuosity to advance, get this, art instead of science." http://www.allaboutjazz.com/php/news.php?id=56417 For me, this is one of the most inspiring performances I have ever heard.It illustrates a truly creative moment that can only come from an exercise of spontaneous creativity that only free improvisation can provide.   Every time I listen to this recording it is as though I am at the concert for the first time, hanging onto every note and every silence. Piano is one instrument on which really lends itself to improvisation but other instruments can be harder.I think the hardest of all is voice.This is because of all the instruments, our voice is the most personal and completely individual.  Therefore any criticism can be (and often is) interpreted as a direct criticism of the person producing that vocal.I also think people can be a lot harsher critic of vocals and vocalists.  (Perhaps this is because anyone who can talk is also a potential singer!)Here is a video of free improvisation on vocals by UK jazz vocalists Filomena Campus and Cleveland Watkiss live at Riverside Studios, London, recorded June 2009.

This is a really interesting one because it involves two people, spontaneously composing together.Not only are they confident of vocalizing what they hear and feel at the time, it seems that as the performance continues they are completely in the same space, hearing the same music.This illustrates one of the most important musical skills to nurture – that of listening.The result of these creative and listening skills is a wonderful true free improvisation performed without any fear.One of the most wonderful aspects of free improvisation is that of exploration. How often do we get to hear all the potential sounds of our instrument? I think the above vocal improvisation explored many different ways to express the human voice  (…) September 21, 2011
~ ~ ~ ~ ~
 MISTERIOSO
by THEATRALIA

A Journey into the Silence of Thelonious Monk
Written By Stefano Benni, Adapted and Directed by Filomena Campus
UK Reviews on MISTERIOSO by Theatralia (to read Italian press release on Theatralia please  click on the Italian flag on the top right – Per leggere la rassegna stampa italiana su Theatralia clicca sulla bandierina italiana in alto a destra)
"MISTERIOSO IS A TOUCHING AND THOUGHT-PROVOKIING THEATRICAL INVESTIGATION OF THE LITTLE-KNOWN LOVE AFFAIR OF A BOHEMIAN HEIRESS, NICA DE KOENIGSWARTER, AND A RECLUSIVE JAZZ GENIUS, THELONIOUS MONK. THE WORDS ARE STYLISH AND THE MUSIC, PERFORMED LIVE BY LEADING JAZZ PROS, IS EXCELLENT." Jack Massarik (Evening Standard)
~ ~ ~ ~ ~

'A Crime to miss it" The Times
~ ~ ~ ~ ~

Kultureflash Review
29 I 10 I 09
London-based collective Theatralia inject Stefano Benni's play Misterioso with a dose of beatnik heroin. Misterioso explores the relationship of legendary pianist Thelonius Monk with aristocratic arts patron Baroness Rothschild (Pannonica). Jazz aficionados will by thrilled by the ensemble of seasoned musicians, who will transport them to an NYC Jazz club in McCarthy-era America. Tony Kofi blows away the cobwebs with his sax, Orphy Robinson competes with a projection of a '50s cartoon character on vibes, and Pat Thomas' subtle piano invokes the presence of the late Monk, who spent the last seven years of his life in silence. Magical music and audience toe-tapping is given a menacing undertone with Pannonica's tragic anecdote, about a cop hitting Monk's hands with a baton after he asks for refreshment in a whites-only hotel. Misterioso culminates with a projection of Monk rotating like a whirling dervish, a metaphor for mounting racial tension. Sympathetic direction and uplifting vocals by Filomena Campus, evoke the feel of the Beat Generation's Big Apple Ex-drum and bass MC Cleveland Watkiss brings Monk's narrative to life with his booming voiceover, whilst Thomas is the physical embodiment of the silent Thelonius, chiaroscuro highlighting him like a Zurbaran painting, giving gravitas to the myth of a musical legend.
~ ~ ~ ~ ~
TELEGRAPH REVIEW
How Monkish was Monk?
By Sebastian Scotney – The Telegraph October 23rd, 2009
What is Misterioso? First, and simplest, it is a good jazz gig. The theatre is set up as a club. Director Campus, originally from Sardinia, has assembled a classy band. At one point the audience is encouraged to dance. Vibes player Orphy Robinson – who isn't doing all the performances – is a national treasure. I just love the warmth and humanity he radiates from the bandstand. Winston Clifford on drums and Tony Kofi on alto sax also feed in energy and humour. Campus herself is a highly musical singer. The music was continually bringing a smile to many faces in the audience…. Read more And the music by Monk being showcased is definitely capable of looking after itself. Here's a safe prediction: new generations of musicians are going to continue to absorb the harmony, the language, the emotional directness of Monk's evergreen and unique tunes for ever. The dreamy sensuality of "Round Midnight", the slinkiness of "Blue Monk" are for every season. These are great tunes which simply can't be uninvented. Last night the band were also digging hard into the hip bravado and swing of "I Mean You" and "Well You Needn't". They also took excursions into free jazz, a reminder of that part of Monk's heritage and influence. Pianist Pat Thomas, who certainly looked the part of Monk, came into his own in these episodes." "There was also something of the lecture about the evening. The sonorous recorded voice of Cleveland Watkiss dwelt on the politics of the McCarthy era. Campus instructed us at one point to "Listen to the sounds of his last silence," and occasionally drifted into Italian interior monologue". " The best moments were when Tamsin Shasha as Monk's Baroness Nica was telling the story of some of the more improbable escapades from her travels with Monk. Shasha is both versatile and elegant: not only did she convince with her prim cut-glass Patricia Hodge, and diction to die for, but also was impressive when being lofted upwards as a butterfly".
~ ~ ~ ~ ~
MISTERIOSO REVIEW ****
Misterioso, billed as 'a journey into the silence of Theolonius Monk', occupies a genre of its own. Elegy, rather than celebration, the central theme is the unlikely relationship between legendary jazzman Monk and his aristrocratic muse and benefactress, Baroness Pannonica Rothschild. The piece also explores Monk's descent into self-imposed silence through a series of vignettes fusing poetry, animation, monologue, voice-over, pseudo-documentary footage, semi-improvised musical soundscape , aerialism and blistering live jazz. In Misterioso, what meets the eye (and ear) is much more than a mere play with music.
Defiantly rejecting a linear narrative structure, writer Stefano Benni and director Filomena Campus adopt a deceptively freeform jazz format to recreate the tale of Monk's decline. The story is told as a series of picaresque vignettes that mimic a set of jazz riffs. When the (often mesmeric) musical fragments that serve as a metaphor for Monk's disintegration burst into fully formed jazz numbers, the superb talents of Mark Sanders on drums, David Leahy on double bass, Campus' own scat vocalisations and the sheer brilliance of saxophonist Jean Toussaint truly soar, bringing the joint – and the spirit of Monk – to life. As Monk, Pat Thomas' mute introspection and edgy piano playing capture Monk as outsider. Acting 'solos' are taken by Christina Oshunniyi, exuding charisma and presence as a (non-singing) Billie Holliday and as Monk's long suffering wife Nellie. Tamsin Shasha as Pannonica embodies a character seemingly straight out of a Waugh novel, charmingly fulfilling the role of interlocutor whilst brilliantly capturing the ease, class and steel of the extraordinary 'Jazz Baroness'. In a final coup-de-theatre, Shasha, like the music, literally 'flies', as she becomes her butterfly namesake by ascending silks, ultimately mirroring the cocoon-like state that engulfed Monk himself. Mysterioso slyly evokes the paranoia of a postwar America, depicting the grotesque surrealism of racial segregation, McCarthyism, fears about the atom bomb and a culture that mistrusts convention as reasons to suggest why a talent like Monk's could be driven into silence – ending his life, in Pannonica's words "buried alive". If you enjoy Monk's music, searing jazz (and with different musicians scheduled to guest adding to the overall feel of an improvisation), Theatralia's postmodern, poetic take on musical voice and the sound of silence, this trip could well be the show for you.
Reviewed: Ian Angus Wilkie,LOW DOWN, 4 stars, 4/11/09
~ ~ ~ ~ ~
ATN review: Misterioso, Riverside Studios ****
Reviewed by Lindsay Johns
Published, November 2, 2009
Subtitled "A Journey into the Silence of Thelonious Monk," Misterioso is the Riverside's October Black History Month offering. Billed (albeit a little disingenuously) as a play, when in fact it is far more of a live musical performance, connected by vignettes and short soliloquies, it examines the life of the musical colossus, iconoclast, legend and jazz pianist Thelonious Monk.
Set against a backdrop of visceral racism in segregated 1950s America undergoing the McCarthy purges, the conversational monologues which link the dizzyingly brilliant displays of jazz virtuosity are narrated by Monk's white patron, friend and perhaps quondam lover, the self-proclaimed Jazz Baroness Nica Rothschild. Tamsin Shasha's performance explores with an assured depth the friendship that organically develops between her and Monk, and under Filomena Campus' direction feels sure and controlled.
The pre-recorded voice of Monk, as spoken by jazz musician Cleveland Watkiss, monologues by Billie Holiday and mention of luminaries Bud Powell and Charlie Parker all complete the period evocation and serve to shed valuable light on the white fascination (and at times dangerous fetishization) of black music and musicians.
With the Italian lyrical interludes acting as a gracious nod to writer Stefano Benni's background, multi-media visuals projected onto a screen, audience participation which evokes the Harlem jazz club milieu, complete with tables and a hostess who sits, drinks and chats with the audience, not to mention some intriguing, deft aerial work, there is much to admire and entertain in this production.
The band are led by the effortlessly sublime saxophonist Tony Kofi and the hauntingly beautiful solos, be they on sax, piano, vibraphone or drums, fully draw out the pathos of Monk's tortured plight, his loneliness and the metaphysical dimension of his silence.
Poetic, sensual and brave, Misterioso functions both as a serious contemplation of musical genius and as a fervent celebration of Monk's remarkable legacy, not to mention the jazz aesthetic in general. Jazz – the greatest musical invention of the 20th century, a music which created and defined an unashamedly cerebral black aesthetic, one that still powerfully resonates to this day, is without doubt the evening's true protagonist and star.
The mystery of Monk's silence – a silence which consumed him for the last seven years of his life, is summed up in one of the play's concluding lines, when he asks: "What is the point of talking, when you can play like that?" Having heard Thelonious' music, only a fool would argue with the profundity of that rhetorical question.
~ ~ ~ ~ ~
Thelonius Monk: Music And Silence On The Stage
Interview to Filomena Campus
By Barnaby Tidman published on Thursday, 12 November
A theatre production about jazz great Thelonius Monk, Misterioso chronicles the time when the incomparable pianist became silent for the final seven years of his existence. Philomena Campus of Theatralia theatre company directed, starred and sang in the show, enlisting digital artists Sdna and stage design to evoke the art and the politics.
As the painter Giorgio de Chirico (whose painting adorns the cover of Monk's Misterioso jazz album) commented, "In the shadow of a man who walks in the sun, there are more enigmas than in all religions, past, present and future."
As Misterosio's creator on the stage, did you have much interaction with its writer?
I've been in contact with Stefano Benni right from the beginning and he has assisted in every step and development of the project. He's always been supportive and had a total respect for my directorial choices. He also gave me some very good feedback that I've used in the work in progress.
You directed, starred and sang in Misterioso, what was this experience like?
Sometimes I have to fight with the musician in me that would love to be on stage all the time with my colleagues, playing with them all the way through the show, but the director side of me has decided that this time I needed to be mostly off-stage in order to have a proper directorial look at the performance in its complex whole.
There were projected videos playing during Misterioso, as well as jazz-bar style tables for the audience. How visual does a musical performance need to be?
In Misterioso I wanted to engage the spectators' senses as much as possible, and recreate the atmosphere of a jazz club, a way to introduce people to jazz (who is totally neglected by the media, TV and radio), and also to create an experience where the story of Monk was proposed through many codes of communication, not only through the text and the music.
Misterioso is set in the 1950s. Would you consider your evocation of that period on stage to be one of detailed archaeology – digging up the exact styles and replicas of clothing etc?
The idea is to reflect on that period and what it represented for jazz artists and also to compare it to today, and if we think how still difficult it is if for most jazz musicians to earn their living,  having to teach or do other things to pay the bills, while pop artists have a very different 'status', then it means we still have some work to do. If we think of the racist groups developing in Europe at the moment, as artists we need to do as much as we can to raise awareness about it.
The elements that you see on stage- Thelonius at the piano, a video backdrop, the hanging drapes- where did these come from?
They were my ideas, as the original text consists basically of short monologues/poems. I've worked with digital artists Sdna for years and I love their creative and open  approach. The idea of the silks came after seeing Tamsin Shasha performing on the silks, in my mind that was a perfect and moving image of Pannonica 'Butterfly' [the rich heiress who was friends with the jazz greats, who features in the show as a character]- a surreal interpretation of her name and her life, always flying high as a woman in the 50′s, challenging conventions and supporting black jazz musicians in the McCathy era when they were not accepted by the society.
Have you been involved in any other stage productions that make use of live music is so prominent a way?
I am a jazz musician myself , and in my theatre productions I've always used live music, it's part of my style. I love the energy and the chemistry that exists in the jazz gigs or music concerts, and I'm trying to use the same idea in a theatre production, fusing the two of them into a new form of performance. This is sometimes difficult for critics to label, but that's not our problem.
~ ~ ~ ~ ~
ANSA  Italian Press Agency London
Triumph of Misterioso. The play by Stefano Benni about the life of jazz pianist Thelonious Monk, was sold out each night and totally charmed its enthusiastic audience' (ANSA).
~ ~ ~ ~ ~
'The poetry of Stefano Benni's words debuts in UK' La Repubblica.
~ ~ ~ ~ ~
'Monk's Mysterious Silence Gets Multi-Media Treatment. A fascinating night of music and verse to commemorate the creative struggle of jazz musicians during the McCarthy era is taking place at the Riverside Studios, in Hammersmith, London on 22, 23, 24 November. Entitled Misterioso: A Journey Into The Silence Of Monk it brings together leading UK musicians Guy Barker (pictured), Jean Toussaint, Pat Thomas, Rowland Sutherland, David Leahy and Kenrick Rowe in a work adapted and directed by singer and theatre director Filomena Campus and based on a work by top Italian satirical writer Stefano Benni' JAZZWISE
~ ~ ~ ~ ~
'A night of music and readings inspired by Thelonious Monk's self-imposed seven-year silence, maintained until his death as an act of protest against the oppressive McCarthy era. With readings from Monk's innermost thoughts – voiced by Cleveland Watkiss – interspersed with music from a superlative cast of top UK names and poetic words from acclaimed Italian satirist Stefano Benni. This should prove a thought provoking and entertaining mix of words and music. RECOMMENDED - TIME OUT
~ ~ ~ ~ ~
Theatre's night of Monkish magic
EDITORIAL – herts.advertiser@archant.co.uk  Misterioso
Was it a jazz concert, was it a play or was it an art show? The answer is it was a stunning fusion of all three. Recreating the setting of a 50s' jazz club, Misterioso explores the magic of jazz through the story of pianist Thelonious Monk, a genius and an outsider who spent the last seven years of his life in complete silence. An evening of notes and verse about the struggle of jazz musicians in the McCarthy era, it alternated poetic words written by Stefano Benni with Monk's spellbinding notes. It was a fascinating mix of live music by a splendid jazz ensemble and stunning projected art works. Nothing is as it seems in this production although we did guess the exotically-dressed black girl at the next table might be "a plant". Christina Oshunniyi played Billie Holliday but this lady not only did not sing the blues but didn't sing a note. However, her feline sensuality dominated the stage and held every eye as she undulated and padded around it. It was the white woman Filomena Campus who sang to us – often in her native Italian. The multi-talented Ms Campus also translated and directed Misterioso. Her fellow musicians included the illustrious Jean Toussaint on tenor saxophone who has worked with all the greats. His "golden fire" filled the theatre like a wrap-around embrace. Pat Thomas, who played the piano, could have been Monk himself with his rangy frame bent over the keyboard in a trademark hat. Pannonica Butterfly – a reference to a Monk song – was played by Rachel Snider in a very stylised, stylish manner.(..) Her clear ringing tones successfully accompanied the action in an evocation of another era. Sophisticated, soigné, cool and classy, the evening managed to simultaneously entertain, engage, educate and enrich which is a rarity for a theatrical experience. MARY BROSNAN
~ ~ ~ ~ ~
'A truly magical experience that, through the almost seamless weaving of text by and about Monk, together with his music beautifully, sensitively and joyfully played, really does take its audience on a journey through his life and into the silence. A highly impressive, colourful, truthful and uplifting show. The audience left beaming, as did I' (Jonathan Salisbury – Trinity Theatre Artistic Director)
~ ~ ~ ~ ~
ANSA Press Agency – London
Theatre: London, Misterioso by Stefano Benni, Monk between jazz and silences. Filomena Campus presents the art and life of a giant of jazz. A giant of jazz among music, racism, silences and the hysteria of McCarthyism against an art perceived as subversive: this is Monk's life told in Misterioso by Stefano Benni, presented by Italian director and jazz vocalist Filomena Campus at Riverside Studios in London. A polished and tasteful play, with great jazz and the text about America in the 50s, with its dramatic context of black and white, which becomes the chromatic theme in Misterioso. Among stunning projections, live music and the story of Monk's life, Campus, excellent jazz vocalist, with her company Theatralia present -in English and Italian – Benni's reflections mixed with the notes of the great pianist. On stage, like in a smoky 50s jazz club, spectators sit on tables, with a waiter offering them a drink. Together with the singer and director, an amazing ensemble of top jazz musicians such as Guy Barker, Jean Toussaint, Orphy Robinson, Pat Thomas, Rowland Sutherland and Monk's voice by Cleveland Watkiss. Campus, Sardinian artist very active in the London jazz and theatre scenes, uses Benni's text not only to tell about Monk's life. In her Misterioso there is room for a philosophical and musical reflection upon "silences", which Monk embraced in the last seven years of his life.
~ ~ ~ ~ ~
RUN-RIOT – Theatralia: 'Misterioso' at the Riverside Studios
Set in an American 50s jazz café, the genius of one of Jazz's greats, Theolonius Monk is brought alive amidst the historical and political issues of the era, with live music and visuals. Monk spent his last seven years in complete silence. How would you be able to describe this through music? No matter how paradoxical the question is, Theatralia attempts to sort the challenge out. With the stars of the UK's jazz scene all re-united, the international theatre collective presents its personal tribute to Monk, an insight of the artist's personal issues together with an open political and historical debate. The play, adapted by director Filomena Campus is based on the written work of Stefano Benni, both a very well know Italian writer and an estimator of jazz music. The stage is set as a jazz club where the music performed by incredible names such as Guy Barker (we have seen him in The Talented Mr Ripley), Jean Touissant and many others mix up with short acting inserts and video projections. Monk's character and his notes come back to life, what is seen as craziness and dementia is recognised as part of the artist's productive flow. His silence, as we understand in this work, is a response to a sense of disgust and rejection to the discriminations during the controversial McCarthy era. Although the final interpretation is left open to you whether the mystery of Theolonius Monk is solved, one thing is certain, the show has a triumphant ending – the music reigns, and the tragedy is eased.
~ ~ ~ ~ ~
'The success of the show arises from both the remarkable performance of the actors, musicians and audience participation' (Café Babel)
~ ~ ~ ~ ~
Women's voice – Filomena Campus. Jazz and Theatre in London
Campus has found in London a fertile soil for her theatrical ideas and experimentation with her company Theatralia. Her last production Misterioso, written by Stefano Benni, has won an extraordinary success of critics and audience. Giacomo Serreli – Sonos & Contos – December 2007
~ ~ ~ ~ ~
Monk's jazz and poetry live again in Benni's words.
Misterioso (sold out at Riverside Studios) is a very elegant and poetic fusion of Monk's music, Benni's text –performed by different characters such as Billie Holiday – silences and pauses. Abused and persecuted in the McCarthy era, Thelonious Monk stopped playing and talking in the last seven years of his life. Campus' English adaptation relegates the piano almost on a side of stage, to represent the silence of the great musician, while trumpet, sax, voice and flute dominate the space. Unione Sarda, November 2007
~ ~ ~ ~ ~
An eloquent study of madness and silence ****
Monk spent the final seven years of his life, until his death in 1982, in near total silence, not speaking or playing a note to anyone. Misterioso explores the possible causes of his descent, through a series of monologues in the guises of his friends and contemporaries, through Monk's own words (recorded by singer Cleveland Watkiss), and through the biggest clue of all: Monk's music, which is performed by an all-star band of London musicians.
[David Walter Hall] – BroadwayBaby
~ ~ ~ ~ ~
'Silence' and 'jazz' were two words which I did not naturally associate with each other, and so I was intrigued to discover how this performance would portray these two aspects of Monk's life. On the 'jazz' front there was much incredibly talented playing from all involved, and the vocals, were confident and assured. (…)I wished that we had been in a more intimate setting – then we might all have been on our feet dancing. Threeweeks – [Lucinda Wingate-Saul]
~ ~ ~ ~ ~
Exploring Monk's elusive mindscape
The often chaotic, always creative and ultimately silent life and times of one of the greatest of all modern jazz giants, pianist Thelonious Monk, is celebrated in this amalgam of music, theatre and video projection from the London-based Theatralia company. The show, sold out in its inaugural run at the Riverside Theatre in London last year, boasts several highly regarded British jazz musicians in its cast, including trumpeter Byron Wallen and singers Cleveland Watkiss and Filomena Campus, the founder of Theatralia. The show (…)explores Monk's inner mindscape and reflects upon his experiences, notably in the repressive McCarthy era.
The List (Edinburgh Festival)
~ ~ ~ ~ ~
At various times, Thelonious Monk was reputedly either one of two polar opposite characters, able to discourse endlessly about his esoteric music, or a virtual mute who let his idiosyncratic jazz piano style speak for him. However, it's the latter character who appears in this production in which, as McCarthyism unfolds and Monk's friend and patron Pannonica de Koenigswarter reflects on his life, the jazz genius's music is the main event. Pat Thomas, as Monk, looks the part, sitting statue-like until called to play piano, although rather than attempt faithful recreation sound-wise, the musicians inject Monk favourites such as In Walked Bud with their own energy.
The Herald
GERMAN PRESS
Theater Wolfsburg – Germany, with Huw Warren on piano, Dudley Phillips on doublebass and Martin France on drums, June 2nd 2012
Jester of Jazz in Munich ITALIENISCHE WOCHEFilomena Campus im Night Club Tag zwei dieser italienischenWoche im Night Club.  Heute gibt es den wahrscheinlich intellektuellen Höhepunkt der Reihe zu bewundern: Filomena Campus. Die Dame ist nämlich nicht nur Sängerin und stellt ihr aktuelles Album "Jester of Jazz" vor, sondern auch Theaterregisseurin und Universitätsdozentin. Aber keine Angst:Wenn Filomena auf die Buhne steigt, wird das kein Oberseminar über neue Ansätze der Jazzforschung, sondern eine sinnlich swingende Performance. Night Club (Bayerischer Hof), Promenadeplatz 2-6, Munich WWW. ABENDZEITUNG.DE
~ ~ ~ ~ ~Per la rassegna stampa italiana e inglese sulla regia di Filomena Campus con la sua compagnia Theatralia a Londra clicca   QUI To read UK and Italian reviews on THEATRALIA  click HERE