FILOMENA CAMPUS QUARTET
JESTER OF JAZZ
"Filomena Campus' Jester of Jazz is a bold jump into the blue colours of the Mediterranean Sea. Deep and refreshing, the melodies sing in waves the stories of jazz, freedom and passion.  The blues is never far, and when your hear the music your soul sails away into the world of free spirits." Laurent De Wilde
Filomena Campus Quartet
Steve Lodder, Dudley Phillips, Martin France, Filomena Campus, special guest Paolo Fresu
Filomena Campus Quartet
Filomena Campus – vocals
Steve Lodder – piano
Dudley Phillips – doublebass
Rod Youngs/Adriano Adewale/Martin France – drums/percussions
Featuring in the CD:
Rowland Sutherland – flute 
Jean Toussaint – tenor and soprano sax
Winston Clifford – drums
JESTER OF JAZZ
An elegant mix of pure jazz contaminated with surreal invasions of theatrical images and short poems.
Campus' performance is a passionate and ironic exploration of the role of the jazz singer playing with the notes and the different colours of the music like a clown.  Inspired by characters of Commedia dell'Arte, Theatre of the absurd, Sardinian culture and in particular by some extraordinary figures such as Dario Fo, Franca Rame, Pina Bausch, Federico Fellini, Samuel Beckett, Augusto Boal, Complicite, Grazia Deledda, Maria Carta.
The introduction notes to the CD are written by Paolo Fresu.
The music is written by Steve Lodder and Dudley Phillips with lyrics by Filomena Campus and a poem by Stefano Benni.
The title refers to the motivation for the Nobel Prize in Literature 1997 that was awarded to Dario Fo "who emulates the jesters of the Middle Ages in scourging authority and upholding the dignity of the downtrodden" (Dario shared his price with his wife and collaborator Franca Rame)
"I wish sweet poetry could bring this message to the world: Harlequins are dancing for the revolution and vote for the Queen of Clowns, but with drums rolling and trumpet blaring they scream: "Wake up Queen! Laughter is not enough anymore!" Franca Rame on Jester of Jazz
The repertoire includes a stunning arrangement of a traditional Sardinian song 'No Potho Reposare' by Dudley Phillips featuring Rowland Sutherland on flute.

Special guests in the CD Jester of Jazz: Jean Toussaint and  Rowland Sutherland.
Special guests of the quartet on their live concerts: Paolo Fresu, Jean Toussaint, Rowland Sutherland, Antonio Forcione, Huw Warren.
JESTER OF JAZZ CD is available on Itunes, Amazon and in the best music stores.

Filomena Campus Quartet ft Gavino Murgia @ Pizza Express – Soho – London ♦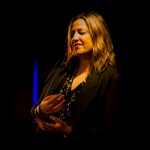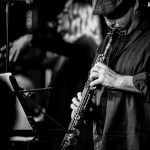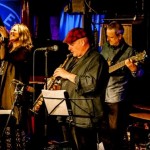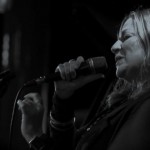 As part of the 2016 EFG London Jazz Festival, Pizza Express in Soho, London, hosted the multi-talented Filomena Campus and her band who play to a rapturous crowd welcoming them with a huge applause.  Campus & co started with a classic, one I have heard before and never tire of listening, "Monk's Dance" (written by Steve Lodder on piano and Filomena Campus), a truly innovative track, both lyrically and musically dedicated to Thelonious Monk.   "Sabbia e Mirto" [Sand and Myrtle) - (by Phillips/ Campus) was like a fluctuating sea, with Campus performing with a smile printed on her face.
"Summer Lights", inspired by the poem "Ombre" (Shadows) by the late Sardinian singer-songwriter Maria Carta, is the introduction the crowd needed for the mighty entrance of Sardinian saxophonist  and singer Gavino Murgia.   His notes were played in a way that was deep and pierces through one's heart.  Campus was energized and her scatting was super-charged on the night by the impressive Murgia.  They were travelling on the same wave-length and at such a pace!
As per usual, Campus's band was of the highest quality with Lodder playing exquisitely on piano, Youngs strong and attentive on drums and Phillips on a perfect rhythm.  Murgia added his magic by producing notes like fire.
A track like "Impressionismo" [Impressionism] – (by Alessandro Di Liberto) was a rendition that makes one realize how skilled Campus is, her scatting is literally something else, she was on top form, a modernist in her approach, Murgia's solo on this piece was powerful.
The second set saw the the band and Murgia provide an insightful performance, one that both myself and the crowd won't forget for a long time: "Bardofulas" a composition by Murgia, a mélange of sounds, singing and words that left one open-mouthed.  "Per Franca"  (by Lodder, Campus, Benni) exposed the highest brand of poetry into jazz/ jazz into poetry that there is.   The track was inspired by a poem by Stefano Benni for the late Franca Rame, the Italian theatre playwright (and wife of the late Dario Fo).
"Pane Pintau" [Decorated Bread] – (by Murgia) is stunning, eclectic, mellifluous.   Another worthy mention, amongst all the beautiful compositions, is "Creuza De Ma'" [from the Genoese dialect meaning a very small, tight alley] – (by De Andre'), arranged by Dudley Phillips,  here the crowd was treated to Campus's Genoese singing, this dialect is not easy to understand, it is intricate and dark at times but this is exactly what makes the singing and the performance more attractive, one has to witness it.
So this is really what jazz can ALSO be; it can be about poetry, about singing it, performing it, it is about creation.
An absolutely inventive show.
P.S. – why are we not seeing Gavino Murgia more in this country??
Personnel: Filomena Campus – vocals; Steve Lodder –  piano, Dudley Phillips –  electric bass, Rod Youngs – drums and Gavino Murgia (special guest) – tenor and soprano sax
Text: Erminia Yardley
Images: Carl Hyde Photography
Filomena Campus Quartet's JESTER OF JAZZ feat special guest  Paolo Fresu @ London Pizza Express Jazz Club Soho – Oct 31st 2012
Filomena Campus Quartet feat special guest Antonello Salis @ My Jazz Islands Festival part 1 in Cagliari Sardinia
THE BAND
Steve Lodder. Highly regarded sideman for many International and London musicians including Andy Sheppard, Naná Vasconcelos, George Russell's "Living Time" orchestra, Sarah Jane Morris, John Harle, Carla Bley, Mônica Vasconcelos. He has also been musical associate with Paul McCartney on the 'Standing Stone' and 'Ecce cor meum' projects,and musical arranger for the Zappatistas. Originally a Cambridge organ scholar he has played church organ on albums with Mark Ramsden and Asaf Sirkis and has written several books (on Stevie Wonder, on the Hammond organ and The Keyboard Bible)
'Lodder is both an improviser of originality and a musical thinker of erudition and depth' The Guardian
Dudley Phillips is one of the UK's most in demand bass players. He has worked with Andy Sheppard, Billy Cobham, Jim Mullen, Iain Ballamy and Martin Speake. Anja Garbarek, Womack, Robert Wyatt, Colin Towns' Mask Orchestra, John Etheridge, Mark Knopfler.
Rod Youngs – Drums
Rod Youngs
Music OMH magazine describes the London based drummer, composer as "supremely subtle and melodic…dynamic and powerful".
A native of Washington, D.C. Rod's consummate musicianship has garnered him a wide variety of work from concerts to recording sessions for radio, TV and film. He has performed/recorded with a formidable array of artists including, Lee Konitz, Jon Hendricks, Gil Scott-Heron, Hugh Masekela, Natalie Cole, Mica Paris, Denys Baptiste, Abdullah Ibrahim, Julian Joseph, Courtney Pine, Ronnie Laws, Jazz Jamaica All Stars, and David Murray amongst others.
Martin France – Drums
Martin France is one of Britain's leading jazz drummers.  began his recording career performing on several records for ECM records. With his friend and music cohort Django Bates, he had been performing with Evan Parker and Kenny Wheeler. Along the way Martin has performed and recorded with some of the world's best musicians including John Paul Jones, David Gilmour, Elvis Costello, John Taylor, Kenny Wheeler, Ralph Towner, Lee Konitz, Dave Holland, Arild Andersen, Marc Johnson, Steve Swallow, Bob Mintzer and The Yellowjackets, with Russell Ferrante and Jimmy Haslip, Gianluigi Trovesi, Nils Petter Molvaer,[2] Bugge Wesseltoft, Mike Gibbs, Maria Schneider, Gil Goldstein, Stephen Warbeck, Joe Lovano, Victor Bailey, Sidsel Endresen and Maria Joao. He is also a regular performer with NDR radio orchestra in Hamburg.  www.martinfrance.co.uk
(to read the Italian Press on Filomena Campus click on the Italian flag on the right corner above)

"As its title suggests, this new album from the London based Italian vocalist and theatre director, Filomena Campus, explores the art of the jazz singer through a playful ironic filter. Perusing the many dedications that Campus appends to the song titles gives you an insight into her many and varied inspirations: from the Italian actress and playwright, Franca Rame, to the Brazilian theatre director, writer, and politician, Augusto Boal, to the Sardinian singer-songwriter Maria Carta. Rather like her Italian counterpart, Maria Pia De Vito, Campus' inherently dramatic approach and wide frame of references ensures that her approach to a song is always from an agreeably fresh perspective. Arrangement-wise, there are some immensely subtle things happening too: the ambiguous metrical layering's of the album's lead –off song, 'Sabbia e Mirto', the slowly uncurling whisps of flute counter melody in Dudley Phillips' captivating arrangement of the traditional Sardinian song 'No Potho Reposare', and the tricky voice/piano unisons of 'Monk's Dance', dedicated to the great Thelonious." Peter Quinn,  JAZZWISE

"this singular Sard gleefully and expertly builds a multilingual set of beautifully stylish original songs…hers is the most international of musics so she's often gigging abroad; catch her when you can"  Roger Thomas, JAZZUK
"The second night was given to Sardinian singer Filomena Campus and her excellent UK band, joined by Salis. Most of the songs had been created by pianist Steve Lodder and bassist Dudley Phillips, with lyrics written or adapted by Campus- recorded on her Jester of Jazz CD (SAM 9032). Campus thinks of improvisation as springing from her acting as well as singing work. 'I want to play with jazz. It makes me free when I improvise.' They opened with Monk's Dance, its tricky intervals reminiscent of Monk's own writing, Lodder's sparkling piano interleaving with Campus' delicate vocals.
Some songs had a direct Sardinian reference. In Sabbia e Mirto, the dark, deep piano and bass chords invoked ancient Sardinian rituals, where the wind is '…carrying notes from the island.' No Potho Reposare is a well-loved Sardinian song, beautifully-arranged by Phillips, undulating like the flying birds projected behind them. Bass and piano lines were delicately counterpointed as Salis played accordion phrases that sounded like a flageolet- and the moon rose behind the stage. Lodder's Summer Lights took inspiration from a poem by Sardinian Maria Carta, with perhaps some Abdullah Ibrahim, and Jarrett influences. The bass and drums (Martin France) followed the contours of the vocal line: '…sound of joy/In my voice, in my soul.' Phillips' Hoos Foos was based on a Stefano Benni poem.
The bass solo was a tour de force, with its expressive double-stopped sliding. France's drums were delicate, while keeping the strong Latin groove. Campus used vocalised sounds as well as singing. She drew on a nonsense language based on the Italian Commedia Dell'Arte, developed by Italian playwright (and Nobel Prize winner) Dario Fo. It was intriguing to hear the variation from the usual Ella-style scat syllables- noises that were funny, childlike and downright scary.
Campus was Flora Purim to Salis' Hermeto Pascoal- growls and ululating to the moon, like a wild jazz version of Schoenberg's Pierrot Lunaire. Campus' theatrical background informed a number of songs. Queen of Clowns was based on Benni poem for the late Franca Rame, Fo's wife. Campus sang with poise and charm, her voice high and and clear, with an affecting flutter in the lower registers. 'Harlequins are dancing for the revolution '. Salis' accordion fluttered between the lines of Lodder 's expressive solo. Boal (for Brazilian theatre director Augusto Boal) was a beautiful samba written by Lodder, sung gently by Campus in an Elis Regina style. Lodder's sparkling solo had a Bill Evans-like transparency." Alison Bentley LONDONJAZZ
"Filomena Campus' Jest of Jazz is a bold jump into the blue colours of the Mediterranean Sea. Deep and refreshing, the melodies sing in waves the stories of jazz, freedom and passion.  The blues is never far, and when your hear the music your soul sails away into the world of free spirits." Laurent De Wilde (jazz musician, writer, jazz critic, author of Monk's biography)

"Filomena jazzes things UP…reaching out to her audience, exuding expressiveness from every part of her body even down to her fingertips" Mary Brosnan, Herts Advertiser
"On stage Campus is like a shaman of music,
enchanting the audience with her deeply expressive voice and her magnetic presence" ANSA Italian Press Agency London
"Ethereal Sardinian vocalist Campus performs beguiling, dynamic, high-spirited originals with her stunning band" Time Out London

"Campus is a highly musical singer" The Telegraph
"One of the most adventurous young female singers/performers/composers based in the UK!" Cleveland Watkiss
"Excellent vocalist, while performing with humour and incredible swing she can touch the chords of your soul with a voice that knows the accents of the blues" La Nuova
"The timbric variety of Campus' voice is remarkable, she is a very complete artist" SUONO